ALL RIGHTS RESERVED - Each individual image is copyrighted
TUTTI I DIRITTI RISERVATI. Il copyright di ogni immagine appartiene
ad ogni singolo artista
The artworks are published in order of arrival
Opere pubblicate in ordine di arrivo
Quotes from Dylan Thomas: '© The Dylan Thomas Trust'
---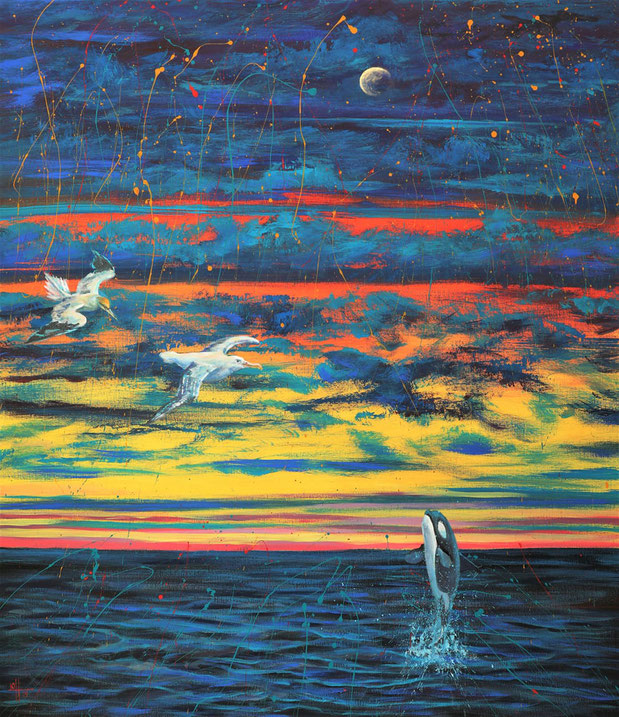 Вечірня симфонія життя
п.акр.о.
160Х140 2019р
Evening symphony of life canvas
oil, acrylic
160Х140 
#dylanday
Yuri Nagulko is a Ukrainian artist and architect. Exhibited in the Metropolitan Museum, the European Parliament, museums, galeries. More than 50 individual projects and exhibitions. 
---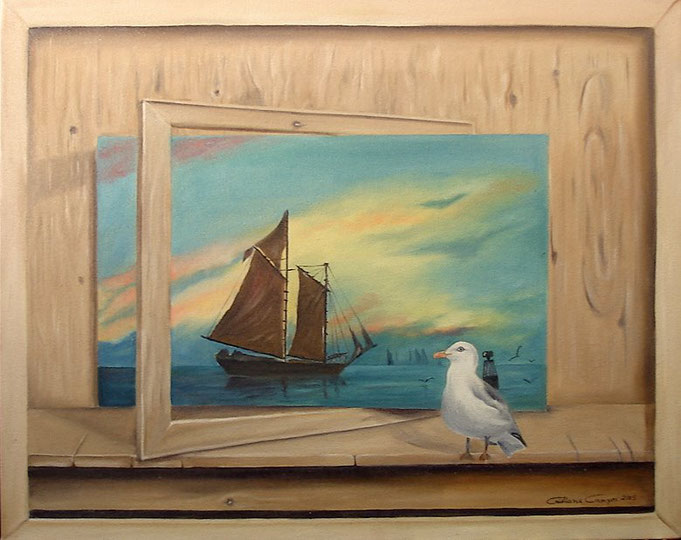 Gaivota 
óleo sobre tela
30x40 cm
#dylanday
Cristiane Campos (Brazil): Self-taught, with a tendency to the figurative. She develops her work based on naïf art using vibrant colors, playful themes and a lot of creativity. https://www.saatchiart.com/cristiane
---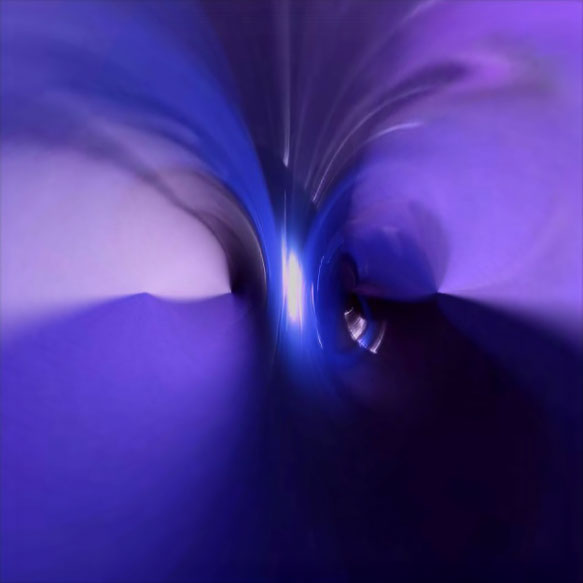 Un trozo de mar II
Photographic Design
#dylanday
Alejandro Vega Gaona (Mexico). His work is the way that connects the senses with color and abstraction, he has created works from painting through all media, photography and design, to his credit he has more than three thousand works together.https://www.facebook.com/AldevaranWolfheim.77128261  -  
https://www.instagram.com/aldevaranwolfen/  -  
https://youtube.com/channel/UCe5n3KmrJIYY0hVZ1NS85mA
---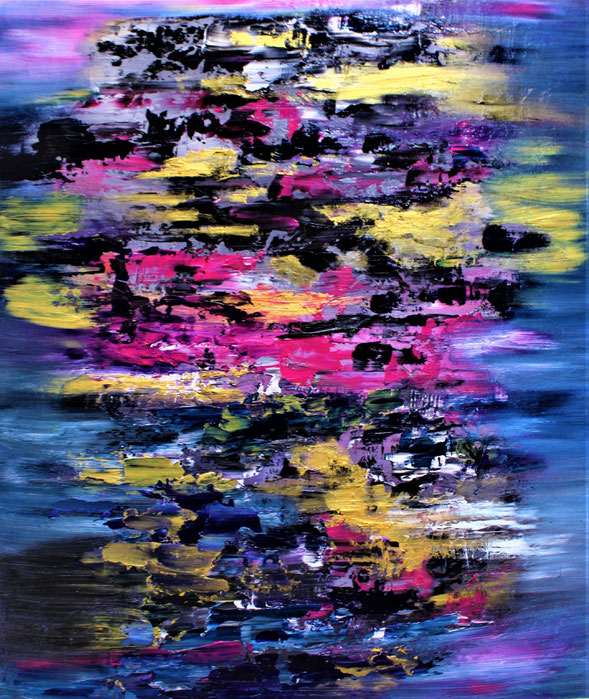 After the rain
#dylanday
AFTER THE RAIN

I am lost in the sound of the rain
The melody echoes in my veins
Trickling down and caressing my spine
Until I am one with the Divine
Oh this bliss of being in nothingness
Where I belong - in the arms of fullness
Here I rest and I bask in my being
Of pure consciousness that's always giving
I see not of myself yet I am everywhere
In time, space and all realities I am there
In the stars, the moon and the sun - in my life I reign
My sovereignty I claim even after the rain.
Hanna Supetran, Philippines
Hanna Supetran (Philippines) is an internationally acclaimed award winning abstract artist and poetess. Her poems and quotes are extensions of the paintings she creates. Lyrical in style, she has been published in numerous journals and art periodicals. https://www.hannasupetranartgallery.com/home
---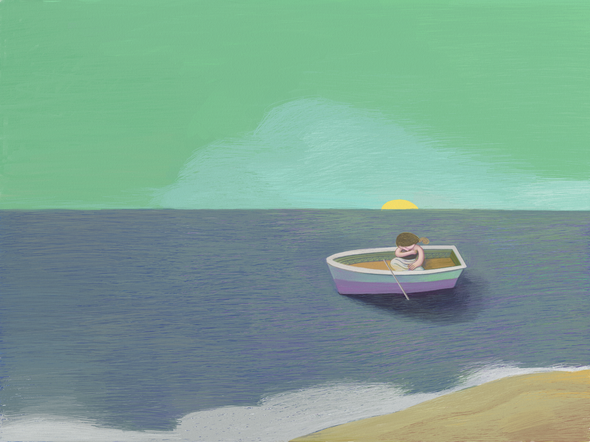 The Sea
 digital art by Artrage / Samsung Galaxy tab S3 /
1536x1150 pixel.
#dylanday
Self-taught artist Jongo Park from S-Korea takes his inspiration from the artists of the Renaissance and paints mainly female subjects. Most of his works are watercolor, pencil, pen and small size. He has exhibited his paintings mainly in Italy. https://www.facebook.com/jongo.park
---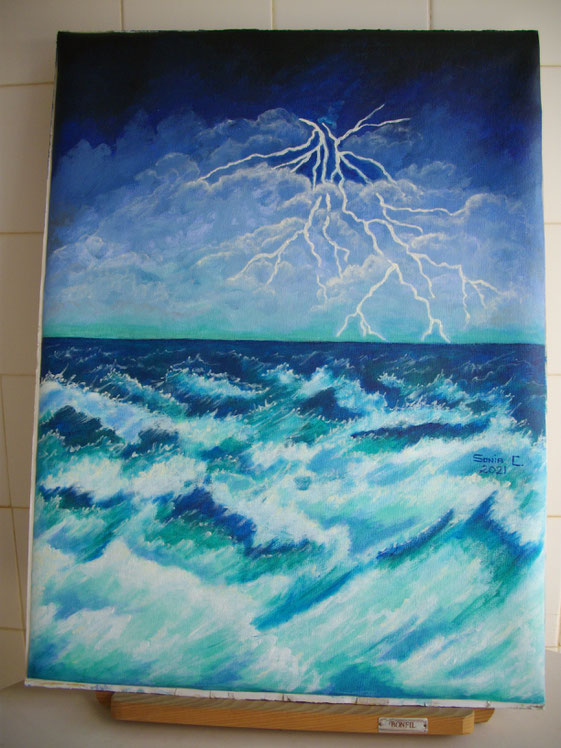 "  Mal tiempo / Tempo ruim  "
 acrílico sobre tela sem moldura
 50 x 43 cm.
#dylanday
Sonia Cabañas (México / Portugal). Artista plástica. Nascida na Cidade do México, México. Trabalhar com muitas técnicas da pintura e do desenho, incluindo a cerâmica e o papel marché.Tem exhibido seu trabalho em diversas partes do mundo.
---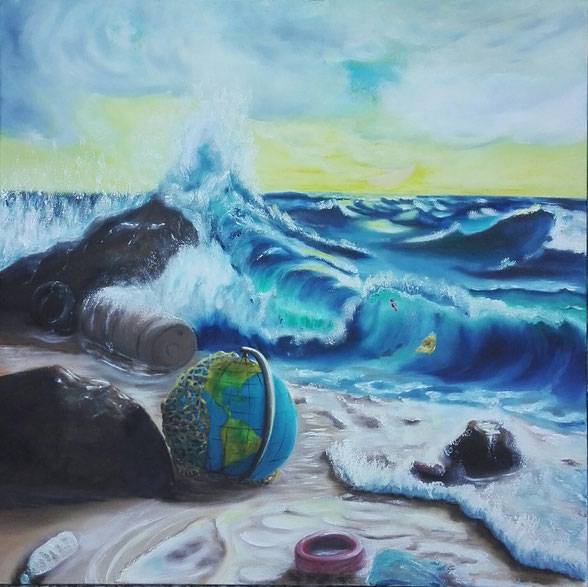 "Antropocene"
olio su tela
60 x 60 cm
#dylanday
Marzia Ciliberto (Italia). Pittrice per lo più autodidatta. Ha partecipato a diverse manifestazioni e iniziative culturali soprattutto nella provincia di Torino, legate a varie associazioni: "Le tre dimensioni", "Go Art Factory", "Lo Scarabocchio ArtTO", "Il Cielo Capovolto", "PolyArt", "Cumalè" e "Ossimoro Art Gallery".
---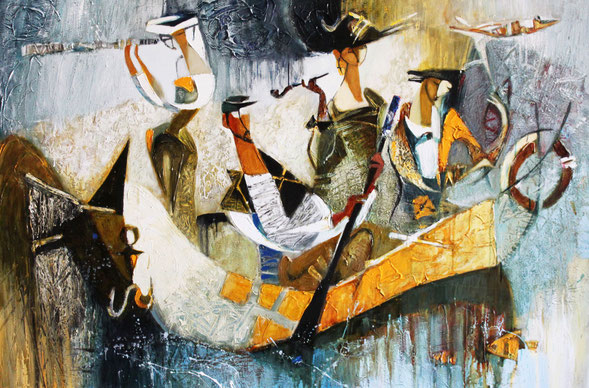 "In the same boat"
 acrylic on canvas
150x100 cm
#dylanday
Galya Didur (Ukraine/Israel) is a contemporary award-winning  painter. She works in a figurative abstract style.She won numerous awards and mentions for her work. Her artworks were exhibited all around the world, including in the Museum of Russian Art (Jersey City, USA), and may be found in the private collections in the USA, Canada, Israel, France, Switzerland, Germany, Russia. She lives and works in Israel.
---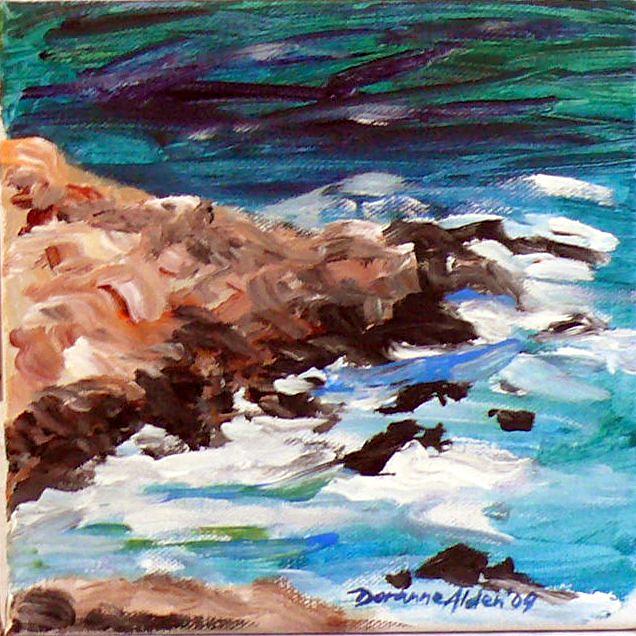 "Winter seas at Fomm ir-Rih - Malta"
acrylic on canvas
#dylanday
Alden Caruana, Doranne (Malta) Doranne Alden Caruana is a professional artist, international art tutor, graphic designer and fine art photographer whose medium of choice is watercolour. She currently lives in Malta, but has also worked and lived for several years in Germany. Her career in the art world spans over 3 decades.
https://www.saatchiart.com/DoranneAlden
---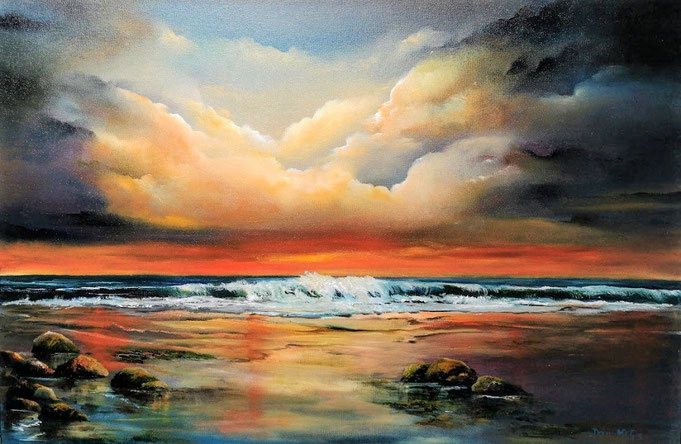 "Eternal Light"
oil on canvas
20 x 30 inches
#dylanday
McGee, Donna (Ireland) Donna McGee is an award-winning Irish Contemporary artist. See her exclusive, original oil paintings, capturing the timeless beauty of the Irish landscape - transforming your interior space, home or office with style, ambience and authenticity. http://www.donnamcgee.ie/ 
---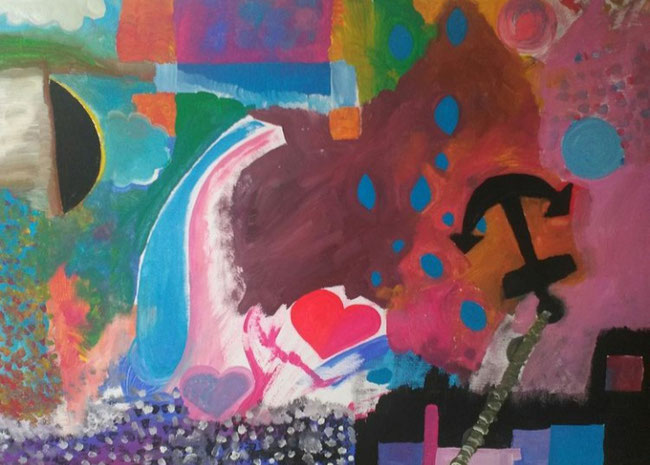 "L'isola d'acqua"
dipinto su tela 
65 x 90 cm
#dylanday
Alessia Allemandi (Italy), pittrice. L'amore che prova per l'arte non é una scelta ma é un'esigenza. Non può programmare quando dipingerà: é un attimo istintivo che nasce improvvisamente e non é programmato.
https://m.facebook.com/alessiaallemandipittrice/

---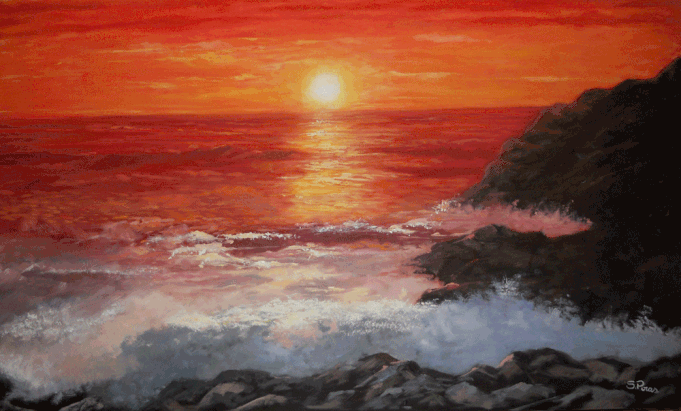 "Tramonto"
olio su tela
70 x 100 cm
#dylanday
Sandrina Piras (Italy). Ha frequentato corsi di pittura con Maestri noti nel mondo artistico e corsi di narrativa e romanzo alla Scuola Holden di Torino.  È donna di grande fantasia e ampi orizzonti, un'entusiasta capace di individuare obbiettivi sempre nuovi e sfidanti che poi persegue attraverso un lavoro speso senza economie e una naturale inflessibile tenacia.
---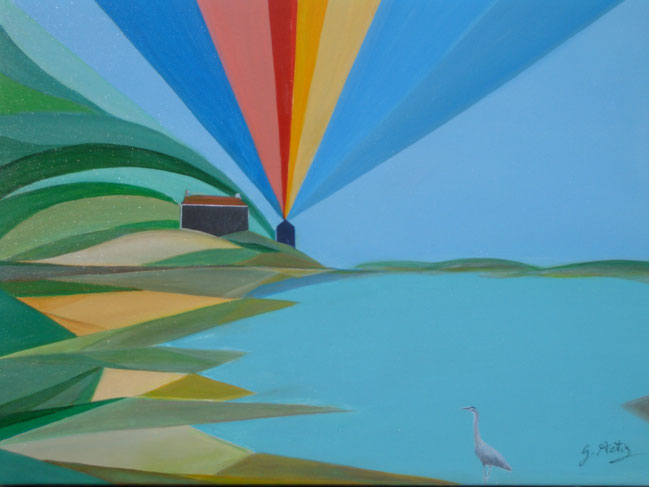 "Dylan Thomas' Boathouse"
olio su tela
70 x 100 cm
#dylanday
Gianpiero Actis (Torino, Italy). Eye surgeon and artist, with permanent exhibitions in the UK (Swansea, Wales) and in Belgium (Huy). In 2007 co-founder of the art-literary Movement "Immagine & Poesia" with  Aeronwy Thomas. http://gianpieroactis.jimdo.com/
---
"a shining"
"... we shine when we pass..."
.
oil,canvas  
.
100x100 cm
.
#dylanday
Mirek ANTONIEWICZ (Poland)
He was born, studied, lives and works in Wrocław. He deals with artistic creation in the field of painting. He had
dozens of individual exhibitions and participated in many group exhibitions in Poland and abroad.
---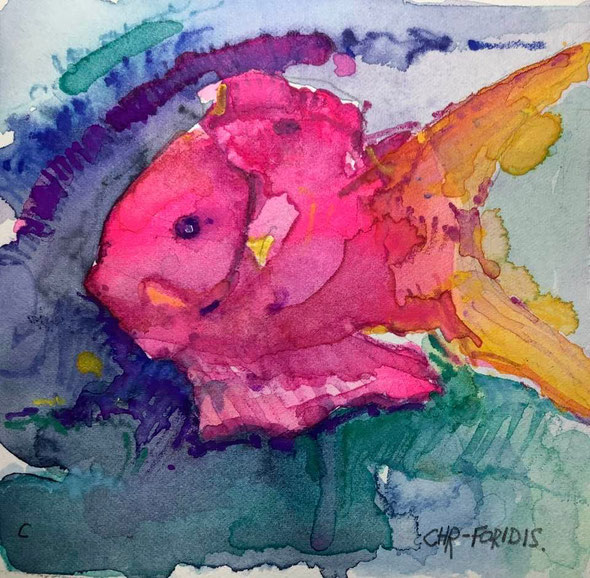 And all the fishes were rayed in blood ...
(Ballad of the long-legged bait: Dylan Thomas)
 '© The Dylan Thomas Trust'
 "Art of Happiness"
#dylanday
Christopher Foridis (Greece) is a painter and song writer who taught himself the art of water color painting. He lives in Thessaloniki and in the summer in Katerini close to beach where he is getting his inspiration from. In the past he was a civil servant but now he is working and supporting himself just from his contributions to art. He has taken part in many exhibitions in Greece as well as abroad
---